Although Cole had desecrated the sacred piano stool of the "Peerless" by sitting on it in his wet bathing trunks, only a few years later he found himself chosen to occupy the throne by unanimous plebiscite. No longer did Captain Crook menace him, for he had become Cole's most ardent admirer, in fact his chief claque.
"When that kid plays the pi-ana everyone rides on the steamer just like it don't cost them ten cents an hour. But they don't look at the scenery no longer - they just listen to him play and sing. At least, they call it singin,' but to me it ain't no more than just talkin' to music. But some of the songs are awfully funny, and sometimes awfully pretty.
Thus did the master of the "Peerless" voice his deep appreciation of Cole's virtuosity.
In remarkably few summers, we found ourselves not just kids any longer, but really grown up. Cole was sixteen; I was fifteen. Cole had been sent east to prep school and my family had moved to Indianapolis. We continued to go to the lake each summer and usually Cole was there, either visiting me, or some of his Peru friends. Suddenly and most surprisingly we found that turtle-hunting wasn't the greatest thing in life. Fishing was just as fun as ever, but somehow girls became sort of essential for a good time -
even for a good sail - that is, of course, excepting a heavy wind when we were out to give my boat, the "Araby," the works.
Soon, too, we found that the Academy dances were sort of fun - and I guess it was because the girls were there, too. The sense of rivalry for the attention of the girls grew keener each summer. I could hold my own with Cole pretty well during the daytime; I could swim faster than Cole and I played winning tennis. Cole didn't care for tennis at all. I was one of the best "kid" sailors, having been taught how to jibe a catboat almost as soon as I knew how to swim the crawl. So during the daytime I could compete with Cole. But when night came it was different - at moonlight sailing I performed okay, but sooner or later Cole would get in the vicinity of a piano and it was all over for the rest of us. Gone were my "gals;" gone were all gals - Cole had them all under their skin.
"Oh, Cole, sing us 'The Spaniard Who Blighted My Life' just once more," was their ardent plea.
Cole ran through the whole field of popular songs, staring with the song hits of the current season and working back to Gilbert and Sullivan and sometimes to the old English ballad drinking songs.
As the roads were sandy and the motor cars of those days uncertain and tempermental, we went to the dances in boats, most often the faithful old "Peerless." Going to the dances Cole played the piano just to pass the time, but it was on the trip back that he REALLY played. Everything was still except the piano and the pounding of the engine, and Cole's one-toned voice. Captain Crook was right -- Cole's voice was terrible -- merely a toneless talking affair; but the entire energy of his slight frame, his keen eyes, his changing facial expression and his sly, humorous asides made hi act. After the first song, the crowd and the rest of the evening was his.
These open-air recitals took stamina, but if anyone had told me they took more energy than a five-set tennis match, or a mile swim, I would have said he was crazy. How all that power was generated in his one-hundred twenty pound frame is a wonder.
As he played he had to get his rhythm paced so it could compete with the pounding and throbbing of the engine. Thus he played steadily from the time we left the Academy pier until we circled the lake and landed at our home dock, often at two o'clock in the morning. By that time, not only did the youngsters crowd around the piano as they do now when some favorite does a special solo hit at a jam session, but the older folks had boarded the boat at the various landings just to hear Cole play. There's always plenty of good musicians at any summer resort - many of them at Maxinkuckee alone who played the piano better than Cole, but Cole was a natural
"Unconsciously, Cole learned to accommodate his piano playing to the steady, lunging rhythm of the "Peerless" as it drove full speed ahead, reversed, or slow-timed..."
showman, and he should have been for he had seen the best there was in showmanship from his earliest days in Peru. And although showmanship may take on a different form for the New York stage from that of the circus ring, basically and fundamentally it's all one and the same - and Cole had never forgotten, never underestimated, and never neglected that fine art.
Unconsciously, Cole learned to accommodate his piano playing to the steady, lunging rhythm of the "Peerless" as it drove full speed ahead, reversed, or slow-timed according to the proficient directions of Captain Crook.
Plenty has been written about the unusual timing of Cole Porter's tunes. But there isn't anything unusual or mysterious about them at all to we who heard Cole play on the old "Peerless" piano. Critics may say Cole's music was influenced by the New York traffic roar, or by the ballet of the opera in Paris. But don't forget that night after night, summer after summer, Cole hammered out his rhythm by the tempo which that master Captain Crook set for the "Peerless" engine. That is where Cole got the heavy accented phrasing and that powerful punch in his music which is hard to associate with a person of such slight physique.
Ralph DePalma (the 500-mile race driver) once said of Cole Porter, "if he could drive an automobile with the same heavy foot that he plays the piano, what a race driver he'd be!"
As long as I can remember, that Cole Porter fellow always had a high achievement aptitude rating with the gals.
But from the day we sat eating our petit dejauncer under Ben Wallace's iron deer until his last year at Yale, Des Bears was the only girl for whom he really cared.
No matter how beautiful and charming women applauded him, no matter how many hero-worshipped and made over him, it was always Des, that Cole looked when he said, "Come, Come, I Love You Only," or whatever happened to have been the sentimental song of the day. As Des grew from a fun-loving, round-faced kid into a young lady, she not only had looks, she had intelligence. Although Cole was always an individualist and a non-conformist, even at one time appearing in downtown Peru with an Indian body-servant who followed him wherever, he went, bowed and addressed him as "Sahib," Des usually was able to keep him within the bounds of decorous behavior as marked out by Miami County custom.
Above: Tommy Hendricks' family at their cottage on the lake.

To those who came in late the following is the third episode of the boyhood days of Cole Porter, the prolific composer of tuneful melodies, born at Peru, Indiana, as related by his friend since kindergarten days, Thomas A. Hendricks, grandson of Vice-President of the United States in the second Grover Cleveland administration. Tom was a sports reporter and later radio broadcaster with his brother Blythe in Indianapolis, state representative and senator, then secretary of the Indiana Medical Association in Chicago. Lake Water (column author Bob Kyle) was closely associated with him since 1921. One more episode will end these chapters taken from the Foreward of a book about Cole that was never published, but is of interesting local history.

***

I suppose few are more rigid in their ideas of formal conduct than kids of high school age. Cole was home from the East with his first pair of long trousers. Des and Cole and I and some other girl were walking along Broadway, Peru, Indiana, not Broadway, N.Y. Cole suddenly stooped and right out in the open adjusted his bright, multicolored garter. It was a horrible breach of the conventionalities and I can remember how terrible the act seemed to me. At least one old dame immediately put out a tri-county broadcast about how the younger generation was going straight to hell.

Des knew Cole was a non-conformist, but she had more control over him than anyone - even his own parents - and in some things more influence. Although we were still in our earliest teens, I can remember her reading a book to Cole and me about the use of trite, worn, weary words called bromides; I forget its title, but the volume listed cliches, monotonous mutterings and kidded pomposities of speech. Des had us play games with certain words, and it was all great fun rating our families and friends according to the high bromide content of their conversation.

"Des, I believe, taught Cole what so many never learned, and never will learn - that is, how to be sincere, simple, direct, and yet to be fresh and new and stirring."

Secretly and off the record among the three of us these linguistic bromides soon became known as "stinkers." Soon the "stinker" record was established, never in our experience to be broken, by Mrs. ------- who was queen dowager of the lake. Mrs. ------- was the only one, by her

own executive order, who set the rules and regulations of conduct and determined what was right and what was wrong for the rest of the cottagers. She made her decisions stick, too. She conducted her weekly rounds of inspection, and there was only one thing worse than to have her call, and that was not to have her call. That meant ex-communication.

Rumor ran that she "asked people off the lake" and to be asked off the lake by Mrs. ------- meant that you picked up and left. For years, too, she enforced four o'clock Sunday afternoon services, and often had a guest cleric to conduct them. Attendance was a must and gee, how we hated it. These services lasted for years, despite rumblings of rebellion by most of the male week-enders, until one Sunday afternoon father took the guest cleric sailing, becalmed him, got him thoroughly sunburned, and didn't return to shore until long after sundown. When the boat finally reached the pier the good man was as red and parboiled as the very devil against whom he was preaching.

***

When "Old Lady -------" called, usually we juniors beat it but this particular day when we were in the midst of our "stinker" survey we stuck around to see how she would rate. We had a hunch that her output was still well above the norm, but we were in for a big surprise at that. In less than thirty minutes she ran 123 tabulated bromides, which figured an output of better than four "stinkers" per minute. She produced all the old, time-honored and hackneyed phrases and then repeated them again and again. Thus she won the title of "Grand High Exalted Stinker."

In late years Cole explained how difficult it was and is to write a popular song and not a "trite" song. His newest song hit, "I Love You," deals with a theme as old as the first light year, but somehow Cole gave it new balance and new meaning. Des, I believe, taught Cole what so many never learned, and never will learn - that is, how to be sincere, simple, direct, and yet to be fresh and new and stirring.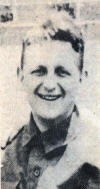 Above: Tommy Hendricks in his WWI uniform.