Carl Adams
Franklin Adkins
Two photos of the Amond children sledding at Devil's Backbone, still a popular sledding spot on the Culver Academy golf course, in February, 1971. From the Kim Amond collection.

Kim Amond at an unidentified Chamber of Commerce event in 1965 or 1966. From the Kim Amond collection.
A June, 1969 photo of Kim Amond in swimming classes at the public beach in Culver's town park. From the Kim Amond collection.
Eddie and Doug Amond in 1964 at their 802 Lake Shore Drive home. From the Kim Amond collection.
Doug Amond in front of 802 Lake Shore Drive in Culver in 1970. From the Kim Amond collection.
Backside of the Amond house at 802 Lake Shore Drive in Culver, February 1976. From the Kim Amond collection.
Captain Frank Amond of the Maxinkuckee Tour Boat (standing) and family, from left: Doug, Kim, and Shirley Amond. From the Kim Amond collection.
This November, 1962 photo shows an awning store owned then by the Amond family on the east side of South Main Street (site of the Collector's Antique store today). From the Kim Amond collection.
Young Kim and Shirley Amond in front of the Amond home at 802 Lake Shore Drive (facing southwest towards the train depot) after the 1968 Easter Egg hunt in the town park. From the Kim Amond collection.
The Maxinkuckee Boat can be seen in the background of this 1965 photo of the Amond family's Chris Craft. Visible are Kim Amond, Shirley Amond, and Capt. Frank Amond. From the Kim Amond collection.
Young Kim Amond and grandmother, Shirley, near the Maxinkuckee boat's usual summer dock in the town park in 1973. Visible is the bell that once rang to let passers-by know that the boat was preparing to launch (Kim is wearing Mrs. Amond's "Captain's" hat). From the Kim Amond collection.
(Left to Right) Shirley, Doug, and Amy Amond on the family's Chris Craft speedboat in 1966, with the Maxinkuckee tour boat in the background.
The Maxinkuckee is docked for winter in this January 1968 photo taken at the usual winter docking spot for the boat, near the boat's normal dock in the town park. From the Kim Amond collection.

A 1960s photo of a night-time cruise on the Maxinkuckee tour boat. Frank Amond is visible on the left. From the Kim Amond collection.

The Borkholder children joined the Amonds on this cruise in July, 1969. This photo shows some details of the interior of the Maxinkuckee boat. From the Kim Amond collection.
The Amonds' Family Funster cabin cruiser on Lake Maxinkuckee, with Eddie Amond (son of Maxinkuckee Captain Frank) in the window, in this photo taken in the late 1940s. From the Kim Amond collection.
Several views of the captain's hat worn by Shirley Amond, wife of Maxinkuckee tour boat captain Frank Amond, for many years. Shirley is also remembered for being stationed at the top of the hill in Culver's town park and ringing the bell to alert passengers that the boat was about to embark on another journey. From the Kim Amond collection.

      See also: The Maxinkuckee Tour Boat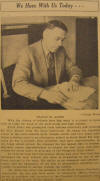 Floyd Annis
Charlie Asper

Harold Baker, Cloverleaf Dairy

Frances Behmer
Joe Boetsma
Charles Buffington
Dave Burns and the Culver Volunteer Fire Department: Three pages by Dave Burns' widow, Judi, on the fire department, full of rare photos.
George Busart
Nicholas Busart
Clarence Calhoun
Ernest Carter
Milton Cline
J.H. Cook
Thomas Cook
Jesse Crab
Cleve Crabb
Lemuel Crabb
John "Neighbor" Cromley, Civil War Vet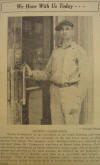 Zenith Crossgrove
Gordon Cultice
Russell Currens
Dale Davis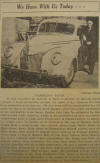 Harold Davis
John Drenk
Charles Dickerson, Jr.
Russel Easterday
William Easterday
M.H. Ewald
Clark Ferrier
Arthur "Art" Fishburn
Russel Fisher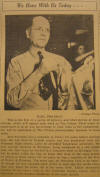 Earl Foreman
Mont Foss
Herman Gardner
Oris M. Gentry - World War II Veteran and Poet/Painter
O.T. Goss
Donald Hand
Betty Lee Harper
Rev. Harvey Harsh
Walter Johnson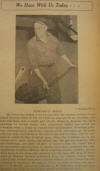 Edward Jones
Marion E. Jones
Paul Kaley
Edward "Red" Kowatch
Robert Kyle
William Lichtenberger
Henry Listenberger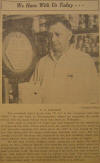 T.G. Louden
Dr. C.G. Mackey
Martin Mahler
James Marshall

Robert May
Daniel McDonald - click here for his life and legacy
A.R. McKesson
Harry Medbourn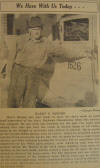 Harry Menser
Claude Mikesell
Kenneth Miller, Miller's Dairy
John Milner
Earl Mishler
John Mitchell (Mitchell and Stabenow clothiers)

Dr. N.S. Norris
Ben Oberlin
W.O. Osborn
Mrs. Robert Ott
Clifford Overmyer
W.T. Parish
Col. Edward Payson, a resident of the town of Culver, was CMA Band Director, founder of the Moonlight Serenade, and a consummate photographer.
Ellen Pengilly
Peter Pederson
Edward Poland
Roy Ragsdale
James Rich
Captain James Rich, the well-known Lake Patrol officer shown in this 1955 photo from the Culver Citizen. The caption describes the Lake Maxinkuckee Association, a younger organization then, but one which still operates the Lake Patrol around Maxinkuckee's shores today.
James Riggens
Dr. Dan Robertson
M.R. Robinson (See also: Culver Citizen newspaper history)
Joseph Schweidler
Eunice Schrimsher -- beloved crossing guard for more than three decades, a memorial to Eunice was placed in Culver in 2005.
Bishop William C.R. Shridan died in 2006 a beloved member of the Culver community, having been an Episcopal priest and bishop for much of his long life. He resided last at what had once been the Methodist Protestant church building in the village of Maxinkuckee, after its conversion to a private home. Pictured here is the front cover of one of Bishop Sheridan's early books, Journey to Priest Hood. His latest book, A Gathering of Homilies, is part of the library's collection.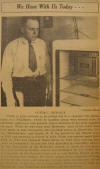 Clyde Shively
Emil Siepman
Emeril "Jack" Scruggs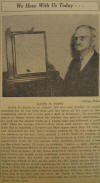 David Smith
Stephen Smith
Byron Spangler
Henry Speyer
George Stabenow
Otto Stabenow
Fletcher Strang, postmaster
Byron Studebaker
Dr. H.H. Tallman
Erwin Thessin
Clifford Waite
Dunn Weaver
Vern Weiger
H.L. Werner, Jeweler - Click here for our page on H.L Werner
Mildren Calhoun White
Mr. and Mrs. Wolfgang Wilfert
Harry Wise
Rev. J.E. Young
Lester Young
The Zechiel Family
Artists of the Culver/Lake Maxinkuckee Area
Warner Williams: Culver's Revered Resident Artist by Jeff Kenney
Charles Duff, Artist.
Patrick Bannon: A Profile
Robert Nowalk: Academies' Art Instructor and Story Chairs Artist
Other
The African-American community of Culver's Past